The garden is really getting into its stride in April, and Easter sees the real transition into the warmer, sunnier days. You'll see a massive amount of activity in the garden this month, from young fledgling birds and ponds full of tadpoles to mad amounts of growth on your shrubs, trees, and veg patch.
The lawn is back to its beautiful green best (especially if you gave it an early spring feed last month), and you'll be breaking out the lawnmower regularly this month to keep it looking tidy. The longer evenings and warmer weather mean being outside is now a pleasure rather than a chore, and there's plenty to keep you busy from April Fool's Day all the way through to May-Day eve!
Your essential April checklist

Borders are starting to burst into life, so fill in any gaps you notice with hardy annuals and native wildflowers

Deadhead spring bulbs like tulips but allow the foliage to die back before cutting

Keep a lookout for aphids appearing on roses, and deal with them quickly with an organic pesticide or warm soapy water before they get a chance to become an infestation

Add aquatic plants like irises and waterlilies to ponds

Underplant slower veg crops with faster ones such as radishes to make good use of the space you have in the veg plot

Declare all-out war on the slugs with the first dose of Nematode slug killer!

Start pricking out seedlings in the greenhouse to grow on, and feed stronger plants to promote healthy leaf and root growth

Sow squashes and courgettes in compostable pots

Make sure your greenhouse is clean and mould-free, and open vents on warm days to promote good air circulation.

Keep the lawn trimmed and tidy with regular cuts
It's all hands to the pumps in April, and those flower seeds should be tumbling out of the greenhouse and into your borders and beds! Quick-growing plants like cosmos and nicotiana will put on a fabulous display from early summer onwards. Fill your borders with drifts of annuals to complement the perennials that are now breaking through.
Leave space for the big summer show-stoppers like dahlias and chrysanthemums. Pack in the ground-covering plants in blocks to squeeze out the weeds, and keep a good eye for any docks, nettles or other unwanted guests!
Flowers that are bee-friendly are right at the top of the list, so choose some native varieties such as borage, poppies and cornflowers that'll also bring a burst of early summer colour into your borders.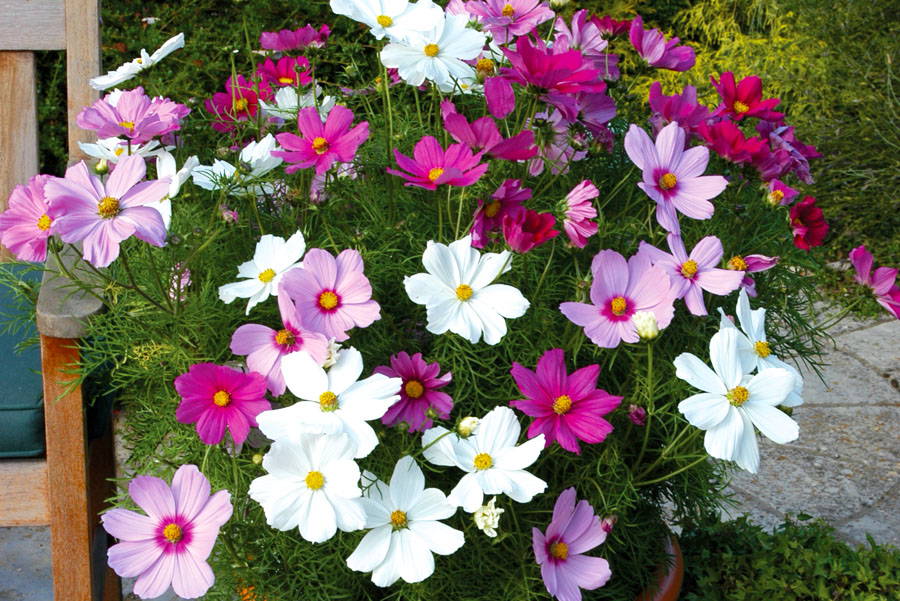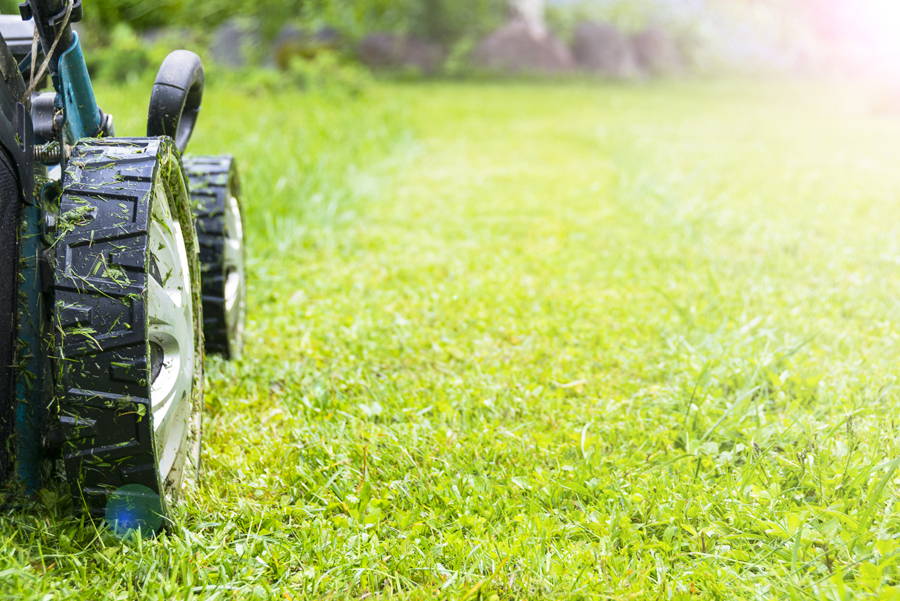 It's time to order seeds, onion and shallot sets, and seed potatoes ready for early planting as soon as the weather warms the soilIt's time to get second-early and maincrop potatoes in, so if they've chitted choose a dry day and get them in, spaced around 12-18" apart. You can continue double-planting rows with fast-growing salad crops like rocket, but make sure the main crops have room to come through. Companion planting with plants like marigolds will keep pests away from your main vegetable crops, too.
The herb garden should be well underway in April, so it's time to divide hardy varieties such as lemon balm and chives to replant into their summer pots or spots in the garden. Thyme will also be appreciated by the local bees, so why not mix a few herb plants into your borders for a bit of variety?
Do we even need to remind you about pest control? It's nematode time again, to really blitz the slugs before they start munching on young cabbages. If it's a particularly warm spring then you may even need to think about netting your cabbages and broccoli to keep those cheeky cabbage white butterflies from laying eggs on your young plants.
It's a transition month in the greenhouse, so if you have young plants it's time to move them out into cold frames so they can harden off before being planted out into their final locations. Greenhouse tomatoes can be moved into their grow bags or large containers, and supported with canes, while seedlings will need pricking out and planting on.
Keep the air flowing around freely to avoid mould, and keep an eye out for red mites and whitefly infestations. If you spot the first signs of aphids then combat them with the best natural predator there is, ladybirds!
It's also time to plant up hanging baskets and pots, but don't be tempted to put them out until you're absolutely sure the last frosts are over and done with.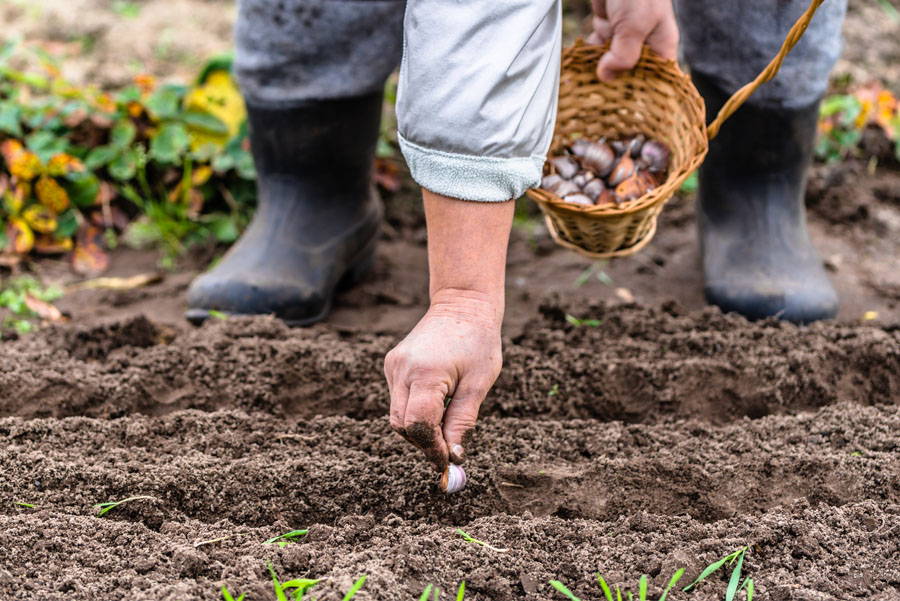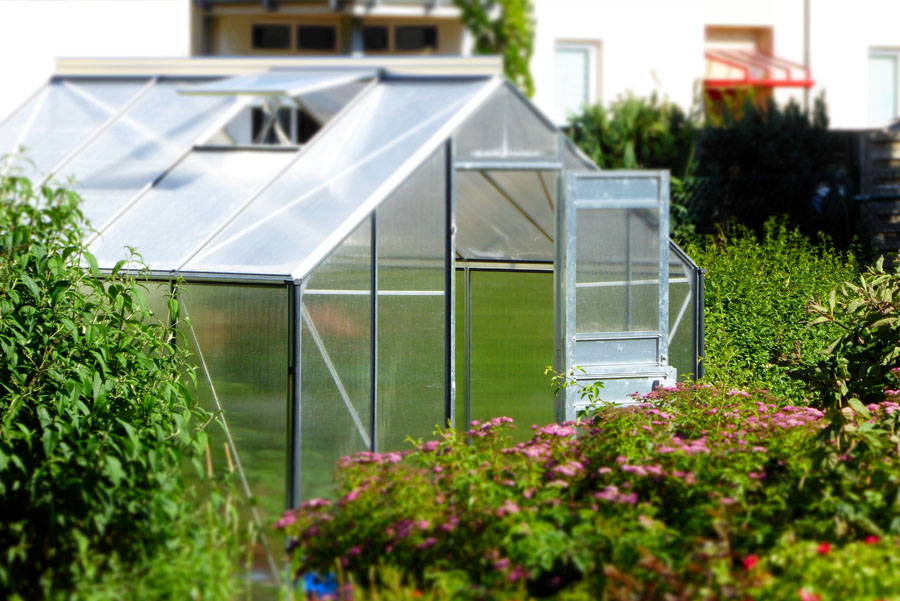 Regular trims will keep your lawn healthy and lush. If you have several dry days then a nitrogen-rich feed may be worth thinking about to really encourage a burst of lush growth for the summer. You should be able to drop the level of your blades down now, and cut to the normal length for the rest of the season.
We still get the occasional gale in April, so check that greenhouse gutters and water butts are clear of leaves and debris.
April's a good month for some pond maintenance, so if you have fountains or pumps then now is the time to get them serviced and back into full working order. Make sure the water is clear, and pop in a bag of barley straw to stop algae turning the water stagnant.
Other things to do in April

Bear in mind that birds are still nesting in April, so be wary of trimming hedges or trees if you think there may be young hatchlings hiding in the branches.
If you want to lay new turf then April is the best month to do it – check the weather forecast first, though, and don't lay new turf if frosts are expected.
Trim ferns to allow the new fronds to unfurl.
Stay on top of the weeding, as April is when you'll see nettles, bindweed and docks all trying to take control of your carefully-manicured beds!
Keep turning the compost heap to get heat into the centre and activate the decomposition process
Set up your own wormery to produce 'black gold' compost!