It's the height of summer, the bees are busy and so are gardeners! There's a lot to do in the garden in July, as we're into the heart of the growing season. The veg plot is crammed with produce, and the flowerbeds are a mass of colour, with everything from lavender to cosmos in full bloom.
However, it does mean that our garden rivals are active too, so keep up the fight with the weeds and bugs that are just as keen to tuck into your courgettes and tomatoes as you are!

Here's your breakdown of what to do in the garden in July.
Your essential July checklist

Keep cutting annuals like sweet peas, cornflowers and cosmos to fill your vases. The more you cut, the more flowers they'll produce!
Tie tall plants such as hollyhocks and sunflowers to canes to give them plenty of support.
Keep a close eye out for aphids on crops like runner beans and wipe them off before they become a problem. Avoid spraying pesticides when plants are in flower, as it can harm bees.
Cut the lawn regularly, but raise the cutting height during very dry weather to avoid stressing the grass.
Keep greenhouses and polytunnels well ventilated, as the temperature can rocket up within an hour of the sun coming up
Water hanging baskets and pots daily in hot weather.
Keep on top of the weeding.
Feed dahlias fortnightly with a high-potash liquid feed to encourage masses of beautiful blooms.
Pick lavender and dry it for lavender bags to perfume your wardrobes and scare away clothes moths. Cut the flowers early in the day before the essential oils burn off in the sun, and hang them by their stems in bundles somewhere cool and dark to dry. Leave some flowers for the butterflies and bees, though.
Deadhead repeat-flowering roses to keep them flowering.
Water regularly in hot weather. Water in the morning or evening to avoid too much evaporation, giving the bases of perennials, shrubs and bushes a good soaking.
Plant autumn bulbs like nerines and colchicums.
Cut back hardy geraniums and delphiniums for a second flowering in late summer.
Divide overgrown clumps of bearded iris.
Sow biennials for next year, including foxgloves, dianthus, and wallflowers.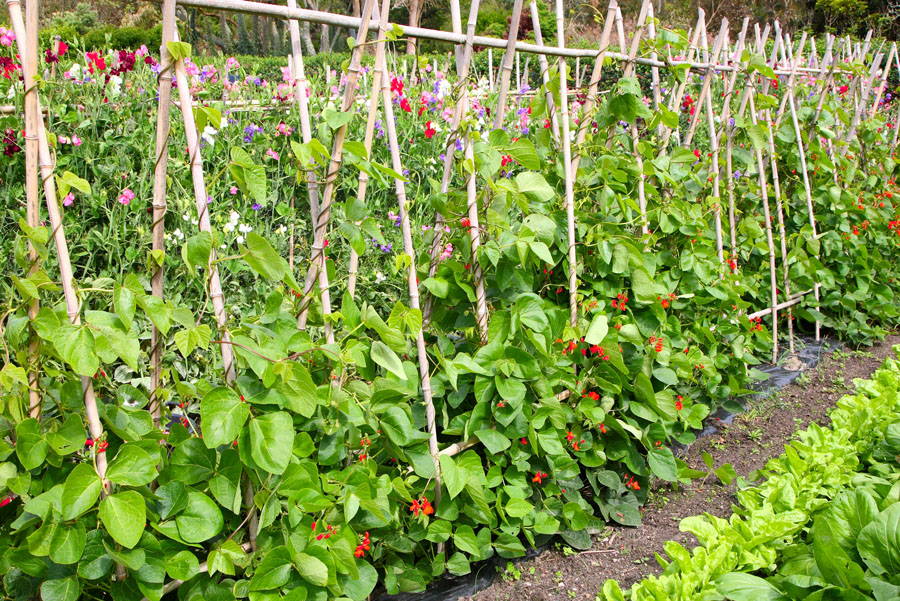 Feed tomatoes

fortnightly and pinch out side shoots on cordon varieties.
Feed citrus trees with citrus feed throughout summer.
Pick runner beans regularly to encourage the plants to produce more.
Unless you want marrows, pick courgettes regularly!
Carrots, beetroot, peas, chard, potatoes and the first tomatoes should all be ready to harvest now.

Net

fruit crops once the fruit starts to develop, to prevent bird damage.
Watch out for cabbage white caterpillars, which can devastate a crop. Check the undersides of leaves for eggs and remove affected leaves.
Sow perpetual spinach and chard by mid-July for autumn and winter crops.
Stop harvesting rhubarb now, so that the plants can build up their reserves for next year.