Your guide to


Spring Lawn Care
Spring is the time of the year when gardeners and their lawns finally 'spring' into action after the bleak winter months. With the warmer weather on the horizon, it's a great time to feed and condition lawns, kill moss and remove lawn weeds. It's also the perfect time to sow new lawns from seed.

For a great looking lawn this Spring, we recommend following our simple steps.
After the wet winter months, your lawn may be overrun with moss and weeds. It's important that these are removed from your lawn as they compete with the healthy grass for vital nutrients and soil moisture.

The best way to remove weeds and moss from your lawn is to use a triple action fertiliser such as Aftercut All In One Lawn Feed, Weed and Moss Killer. Not only does it kill moss, 12 types of weeds and their roots but it also rapidly greens the grass in 7 days. After 3 days moss will start to turn black and will begin to die. Simply rake out the moss and debris with a lawn scarifying rake. It's important to know that once the moss has been removed, you may be left with bare patches in your lawn. It's essential to grow new healthy grass over these patches to avoid them being overgrown by moss in the near future. Gro-Sure Smart Patch Repair is perfect for repairing patches as it contains special aqua gel technology that locks in essential nutrients and guarantees results. This is best applied in the spring or during autumn.

There are two main options for removing small localised patches of weeds in your lawn. You can either use an effective chemical-based weedkiller such as Resolva Lawn Weedkiller or you can remove weeds by hand or by using a weeding tool. If you do choose to use a weedkiller on your lawn, make sure it says that it is specifically for lawns, as normal weedkillers will kill your grass.
All plants need feeding to perform at their very best in the garden and your lawn is no exception. We recommend feeding your lawn with Westland SafeLawn every 3-4 weeks throughout the year. SafeLawn is a natural, child and pet-friendly lawn care solution that gives thick and lush results. It's a 100% organic fertiliser that breaks down into the soil to feed the roots.

The added grass seed will germinate to fill in any gaps, helping to create a thick, lush green lawn. As the grass becomes stronger your lawn will start to out-compete weeds and moss, and the special friendly bacteria in SafeLawn converts any dead moss and thatch into nutrients, which helps to feed the grass.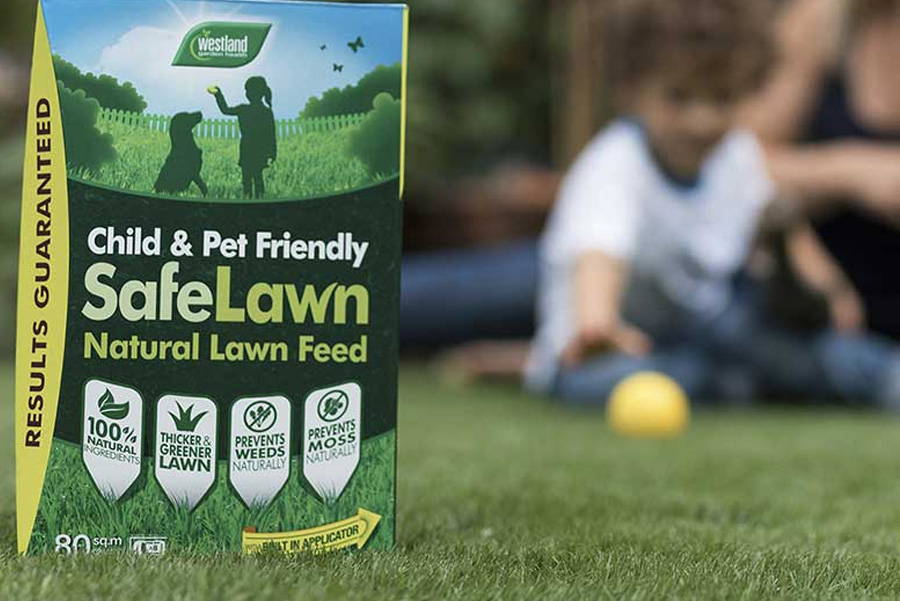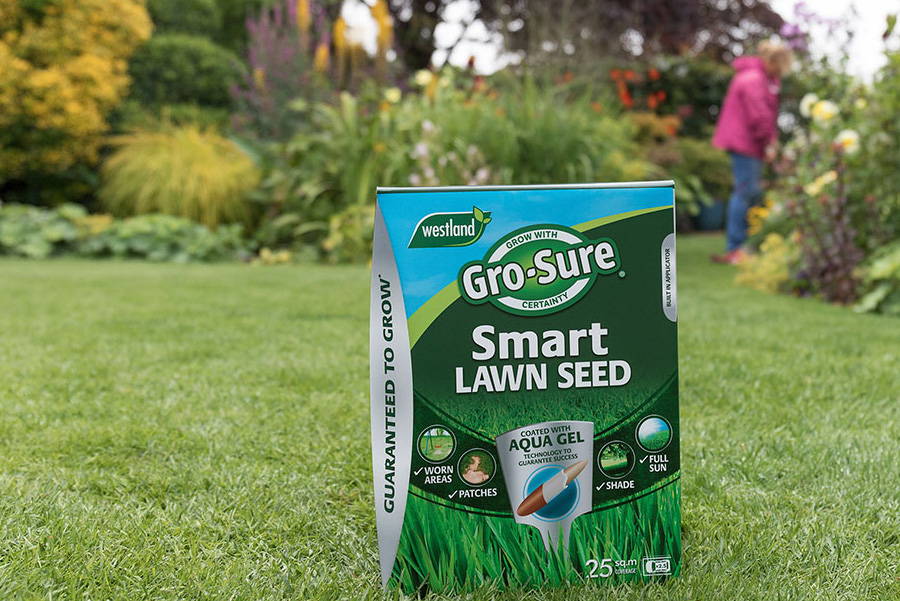 To help promote healthy growth and improve soil drainage to the roots, it's important to aerate compacted areas of your lawn. You'll know if your lawn is compacted because it will be slow to absorb water after rainfall and will be hard beneath your feet. High usage areas on your lawn including paths with heavy foot traffic, are often the areas that need aerating and are quick to be compacted.

A good time to aerate the lawns is during spring and ideally using a hollow tine aerator to remove plugs of soil from the ground. Alternatively, you could use a normal garden fork and push the spikes into the soil to a depth of about 7-10cm (3-4 inches). After the lawn has been aerated, fill the holes with Westland Lawn and Turf Dressing. This contains a mixture of sand, peat, soil and fertiliser, which together, add exactly the right ingredients to the soil for premium grass growth.

The best time to overseed your lawn is in autumn and spring. You need to overseed in spring to prepare for the high usage during the summer months. In autumn, overseeding helps to repair any damage and patches caused during the summer. You may also have sparse areas caused by the removal of weeds or moss, or just where the grass has not grown well.

Prepare the area using a fork or a rake to break up the surface to a finer consistency. Apply lawn seed such as Gro-Sure Smart Lawn Seed, but only at half the recommended rate, then rake the seed into the surface. Depending on the temperature conditions, the grass seed should germinate within 7 to 10 days after sowing.