You better set the alarm clock for the 'crack of dawn' because we're into the busiest month of the year in the garden! May sees an explosion of activity with pots, flower beds and veg plots all in full flood. It's a daily battle to keep up with everything (and to keep the weeds under control!), and you'll be planting out, potting on, feeding, watering, cutting, mowing and hoeing all day, every day!
The lawn should now be in its prime, and you'll now be mowing at least once a week to keep things under control. The soil is heating up nicely and the last threat of frosts are now a distant memory. You'll need to start opening up the ventilation in the greenhouse during the day to avoid things getting too hot, and make sure the water butts are full because you'll also have to start watering regularly during prolonged dry spells.
May is bursting out all over, and by the end of the month it'll feel like there aren't enough hours in the day, so make sure you get organised to make the most of your time in the garden.
Your essential May checklist

Once spring-flowering shrubs have finished flowering, give them a prune so that they don't start to get leggy or straggly.

Once you're absolutely sure you're not going to get a sudden frost, it's time to plant out the dahlias.

Remove the early spring bedding plants like forget-me-nots as they'll be looking a little tired and scruffy by now.

Keep a close eye for pests, especially aphids and scarlet lily beetles, which can decimate lily plants overnight. Treat vulnerable areas with an organic pesticide like SuperNemos Bio Insecticide.

Early potatoes will need earthing up to maximise the yield

Harden off young plants, using a cold frame or popping them outside during the day. If the weather gets too cold or wet then bring them back inside until it warms up again.

Sew salad crops every couple of weeks to get a continuous supply going

Make sure strawberry runners are nipped off so that the plant focuses its energy into producing fruit

Take care of houseplants as well and transplant any pot-bound patio plants into larger containers

Continue the war on weeds, using herbicides specially designed for paths and patios.
May is the time when you can really start filling your borders out. The early spring blush is over, but remember to wait until tulip, daffodil and bluebell foliage has died back before cutting. You can also lift spring bulbs and replant them elsewhere for next season, and give your summer bulbs room to flourish.
Feed young seedlings and plants once a week with a good quality liquid feed, but remember to avoid splashing too much on the leaves as the feed may scorch delicate foliage. If you're passionate about sweet peas then invest in some concentrated Pre-Planting Sweet Pea feed, which will really give your sweet peas a boost.
If you want a good display of fuchsias then now is the time to take cuttings to grow on in the greenhouse. In the evening, go on a snail hunt and keep hoeing the borders to keep young weeds from getting established.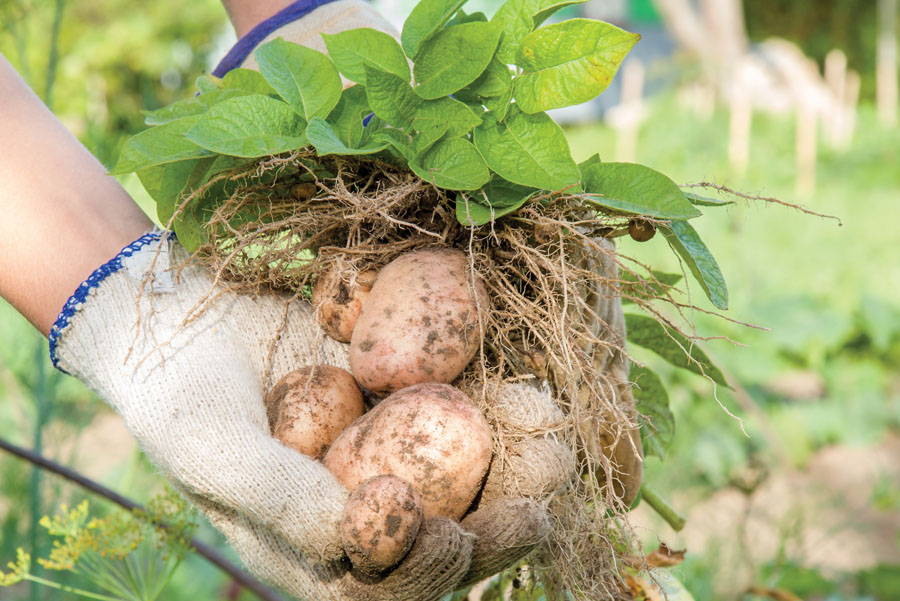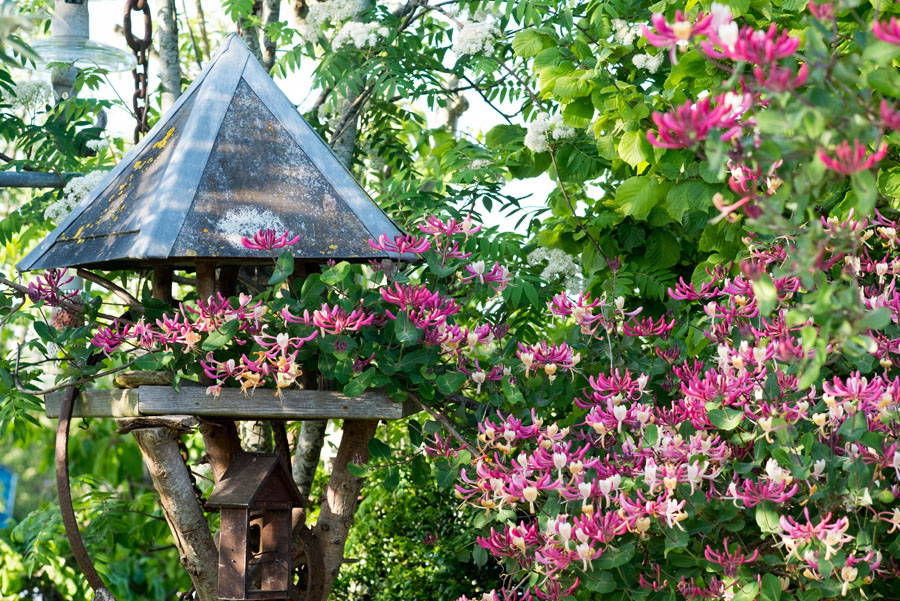 By now your frogspawn should have turned into tadpoles, so you can start some careful maintenance. Pondweed will cover the surface of a pond in a matter of days, so scoop it all out carefully (don't go too mad as there may be some newts living in the bottom of your pond). Replace barley straw bundles, and keep pumps going to circulate and oxygenate the water, which in turn will keep it clear. If you're building a pond then now is the time to get the job done, as the warmer days will allow you to dig and line the pond without getting too muddy!
Soft fruit is really getting started now, and that makes it almost irresistible to pests and birds. If you're growing currants or berries, now is the time to make sure they're properly netted to keep fledgling blackbirds in particular away from those tasty buds.
Strawberries are putting out runners to produce new plants, so you'll need to nip them off to make sure the plant puts its energy into producing fruit, rather than runners. Summer raspberries will need tying up, while gooseberries will benefit from a feed at the end of the month.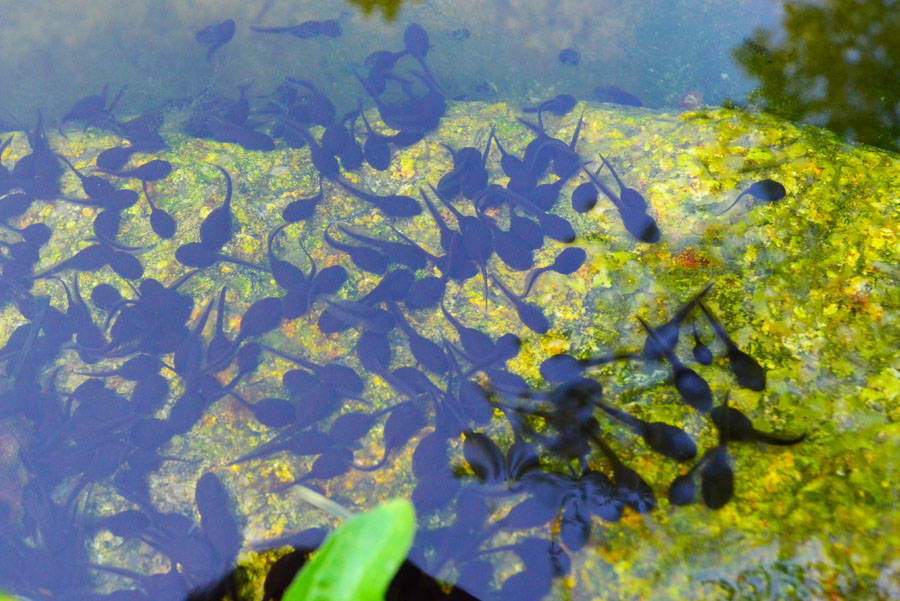 If you didn't do it last month, it's not too late to give your lawn a nitrogen-rich feed. Westland Aftercut Ultra Green Plus Lawn Feed is particularly good if you've missed your early spring feed and want to give your lawn a rapid boost.
If you've created a wildflower lawn, mow a path through it so you can enjoy a stroll in the evening, without disturbing the bees and butterflies. Ordinary lawns will need regular cutting now, as the growing season is well underway, while edges will need to be trimmed to keep them tidy. If you have any bare patches then you can sew in a patch filler to cover them up.
Will these slugs never stop?! If you've had a particularly wet spring then you'll be engaged in hand-to-hand combat with the little devils. Brassicas are particularly vulnerable, although you'll need to defend all of your crops (apart from leeks and onions) against the pesky critters. The other big problem to look out for is cabbage white eggs. You'll usually find them on the underside of leaves – look for clusters of white eggs and rub them off with your fingers if you find any. If leaves are particularly badly infested, remove the entire leaf and dispose of it.
Beans will need plenty of support now, so build wigwams for climbers, while early potatoes will need earthing up to stop the tubers from going green. Weekly feeds will keep everything growing nicely, while regular hoeing will keep the weeds at bay.
Other jobs around the garden will include:
Treating wooden garden furniture, decking and fences, and keeping paths clear of algae

Getting your kitchen herbs well established and watering regularly

Trim hedges and bushes, but check for bird's nests before you start pruning

Set up bee hotels for solitary bees

Treat any aphids immediately, especially on roses

Keep greenhouses and polytunnels ventilated during the day to stop them getting too hot