Optimum Planting Time: September – November
Flowers: May - July
Height: 10-20cm (4-8in)
All anemone varieties thrive in full sun, with well drained soil.
How to plant in the ground

1. When you unpack them, they'll appear quite small; soak them in water overnight, so they
plump up in preparation for planting.
2. Add a good bulb or garden compost with added grit to the soil to prevent waterlogging
(especially important with Anemone blanda which needs good drainage). This will add air
and retain moisture in the summer but ensure your planting site drains well in winter.
3. Anemone nemerosa loves a damp soil so adding mulch of bark-based soil conditioner or
making your own leaf mould will benefit.
4. Plant your bulbs on their longest side so they're horizontal, about 8cm deep and 10cm apart.
How to plant in containers

1. Soak your anemones over night so they absorb the water ready for planting.
2. Fill your container with a high-quality bulb potting mix and make sure there are plenty of
drainage holes, so the soil doesn't become too wet, causing the bulbs to rot.
3. Planting in a container is similar to planting in the ground so plant approximately 8cm deep
and 10cm apart.
4. For the best container display, ensure you plant no more than 10 per pot.
5. Water well and place your container in a sunny spot.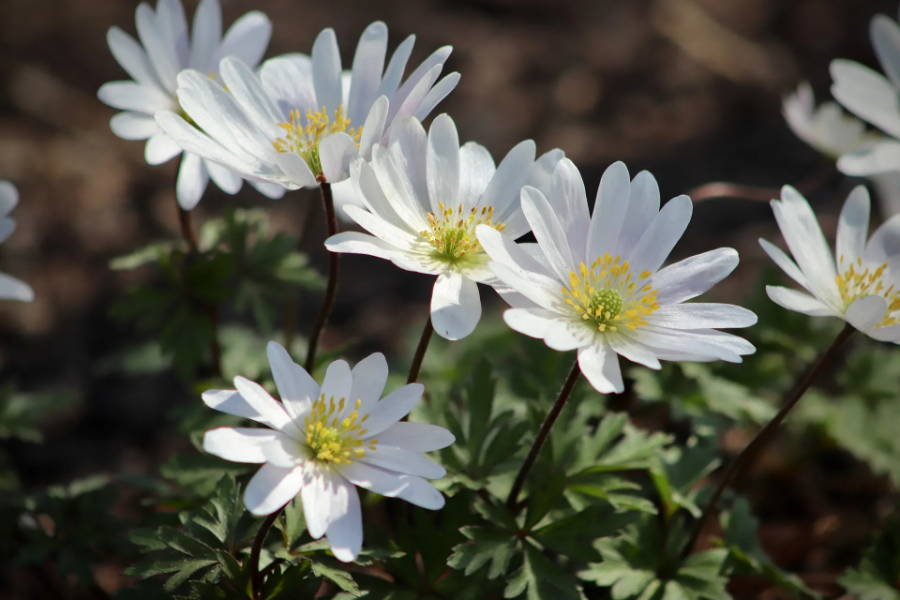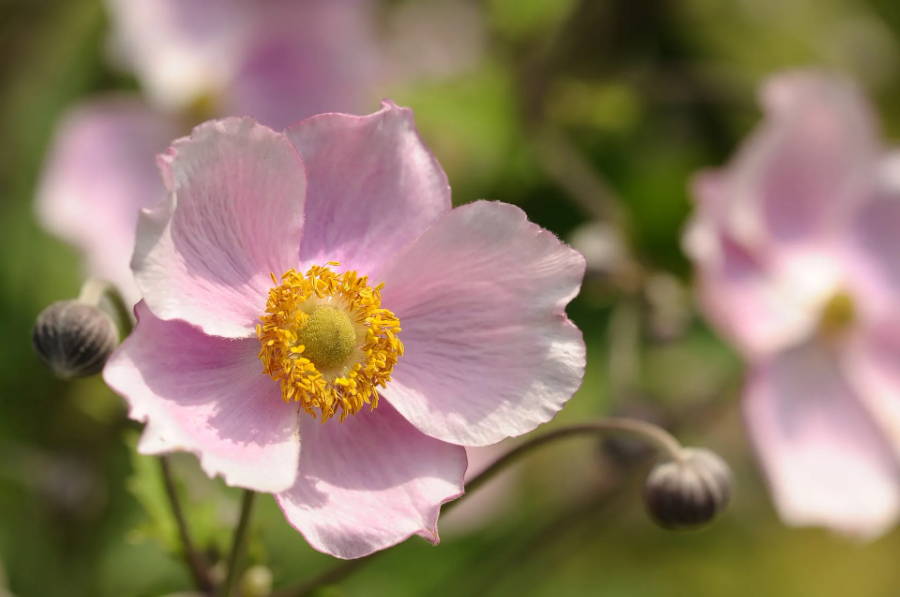 1. Water as required but make sure the soil is moist and not wet to avoid rotting.
2. Feed every couple of weeks with high potash feed.
3. After the flowering period is over, leave the foliage to collect sunlight and strengthen for
next season.
4. Once this has yellowed, remove old foliage, and cut back to the ground prior to new growth
in the following year.
5. If you want to divide your anemones, wait until their dormant period after they have
finished flowering in summer.
Anemones can be tasty treats for caterpillars whose larvae feed on roots, stems, and foliage.
Wherever possible, move by hand or cover vulnerable plants with fleece to prevent infestation.
They're also can be susceptible to powdery mildews which is usually caused by shade or poor air
circulation around the plants. Look out for a white powder coating the foliage which should be
removed and disposed of to prevent spreading.