Runner beans, French beans, mangetout, broad beans and sugar snap peas are some of the most popular in this family of vegetables.
Often displaying pretty flowers before they fruit, peas and beans are great to grow in any garden or allotment and by following some simple instructions, the seeds are easy to grow, maintain and harvest.
When to sow peas and bean seeds

Different varieties of seeds will need sowing (planting) at different times, so always read the instructions that come with your seeds.
Generally, peas can be sown outdoors from early April to early July. Planting at different intervals will give you crops through the season and a plentiful supply.
Beans usually need to wait until May, when the soil is warmer.
For an earlier crop of peas and beans, seeds can be started inside a greenhouse about a month earlier before being transplanted into outside soil.
Where to grow peas and beans

French beans, runners, broad beans and peas like a sunny location in a soil that drains well. Beans don't like being planted in cold or very wet soil, whereas peas are a little more hardy.
With peas, try not to grow in the same location for more than one year, as the soil may build up diseases and harm the crop.
How to prepare the soil for peas and beans

Prepare the soil for peas and bean seeds in the autumn or winter, giving the ground time to settle.
Soil should be fertile but not too rich, so dig in some bulky compost. Apply a light dressing of general-purpose fertiliser a couple of weeks before sowing.
Ahead of planting, the soil can be warmed by putting down polythene sheets.
How to sow peas and broad beans

Create a flat-bottomed gully, or trench, in the soil that's 2inches (5cm) deep and around 6inches (15cm) wide.

Sow pea seeds in the trench to leave around 3inches (7.5cm) between each seed, with 8inches (20cm) between broad bean seeds.

Cover the trench with soil, firm the ground and label where the trench is. Water well.
How to sow french and runner beans

French and runner beans can be sown in small pots full of compost, about 2inches (5cm) deep.
Keep the pots in a cold frame or sheltered spot, before replanting into the ground once the beans reach about 3inches (7.5cm) tall.
To sow seeds directly into the ground in warmer soil, make a trench and plant the same as for peas and broad beans (see above) with seeds 2inches (5cm) deep in the soil.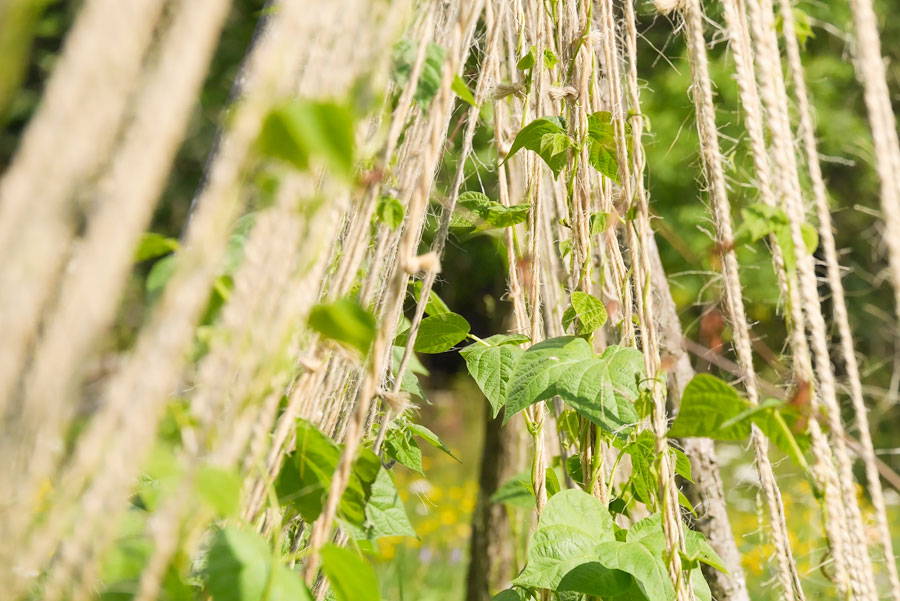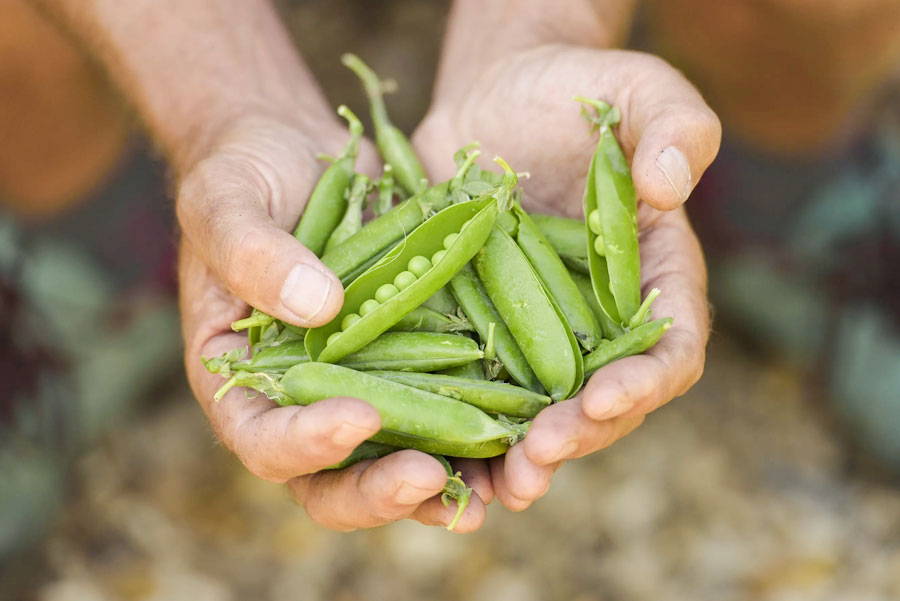 How to support peas and beans

Peas and beans will need supports, usually canes, to help them grow upright. Runner and French beans especially require canes to develop upwards.
Place canes in the soil and tie plants loosely to them. Canes can be sloped or in a decorative wigwam shape.
When to harvest peas and beans

Peas may take around 12 to 14 weeks, with main crop varieties perhaps needing up to 16 weeks for harvest.
French and runner beans should be ready at the end of summer or into early autumn, depending on planting time and spread of planting.
How to harvest peas and beans

When pea pods are filled well, they can be picked. Pick regularly, every day or two, to encourage good growth.
French bean pods should be harvested when pods reach 4inches (10cm) long and are easy to snap.
Runner beans can be left until they are 6-8inches (15-20cm) in length, and before the beans swell too much.
Broad bean pods should be collected once they are around 3inches (7.5cm) in length.