Lawns consist of lots of little grass plants, some of which will die each year. To keep your lawn looking thick and full, new lawn seed needs to be sown to replace the older grass plants or those that have died. This is what we call overseeding.


When should I overseed my lawn?

We recommend that you overseed your lawn twice a year, once in the spring and once in the autumn. You need to overseed in spring to prepare for the high wear and tear during the summer. In autumn, overseeding helps to fill and repair any damage and patches caused during the summer months. Furthermore, weeds are less active during the autumn, allowing the grass seed to germinate freely without competition, therefore reducing the likelihood of experiencing weed problems.
To prevent moss growing in autumn and early spring, thicken your lawn by filling in any patchy areas with lawn seed before moss starts to grow. Read our article on How to remove moss from your lawn for more information.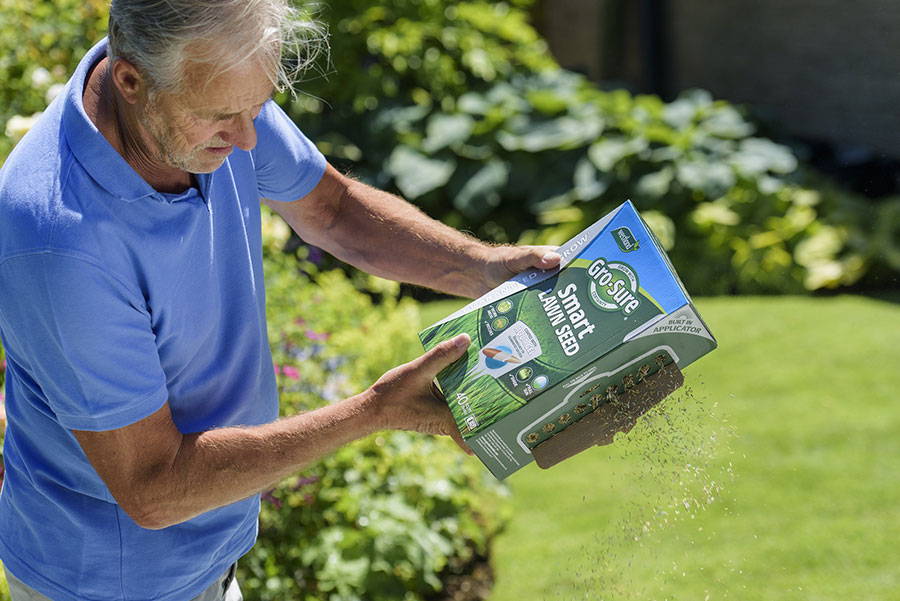 We recommend using the following products to overseed your lawn:

Gro-Sure Smart Seed Range

Smart Lawn Seed and

Smart Lawn Seed Fast Start

are perfect options for filling in thin and bare areas of your lawn. Both lawn seeds germinate in all conditions: full sun, worn and shady areas. They also contain high-quality grass seed varieties that have been treated with Aqua Gel technology, for improved germination results. Aqua Gel can absorb 400x its weight in water and slowly releases it back to the seed.



Gro-Sure Smart Seed Fast Start

can be sown much earlier on in the growing season, with seeds starting to germinate at a lower temperature of 7 °C.


 Westland SafeLawn

For a stronger, healthier lawn, it's good practice to feed your lawn every 3-4 weeks all year round, particularly during those warm spring and summer months. This ensures that your lawn is receiving the essential nutrients needed throughout the seasons.

Westland SafeLawn

is a perfect lawn feed to use as it contains 100% natural ingredients, therefore making it safe to use around children and pets.

There's also an extra benefit of having a no scorch risk or fear of ruining your lawn.