How to sow


new seed in your lawn
As the shorter days start to roll in and you've enjoyed your garden to the full, your lawn will need rejuvenating and may need some TLC. To keep your lawn looking thick and full, new lawn seed needs to be sown to replace the older grass plants or those that have died during the high wear and tear over summer.
Autumn is the best time to sow lawn seed, whilst the soil is still moist and warm, and weeds are less active.


The first thing is to decide what lawn seed you require for your garden. If your turf experiences heavy family and pet use with a lot of foot traffic, in which case a tougher mix with rye grass will be needed. Do you have shady areas where you'd like the grass to grow or are you looking to create a showpiece lawn which requires little maintenance?

We recommend Gro-Sure Smart Lawn Seed and Smart Lawn Seed Fast Start which are both the perfect solution for thickening up bare areas of your lawn. Both mixes germinate in full sun, worn and shady areas and have a bird deterrent coating to keep avian friends at bay. They also contain high-quality grass seed varieties that have been treated with Aqua Gel technology, for improved germination results, which is able to absorb 400 times its weight in water and slowly releases it back to the seed. Seed Fast Start also germinates at a lower temperature of 7 °C, making it ideal for the autumn months.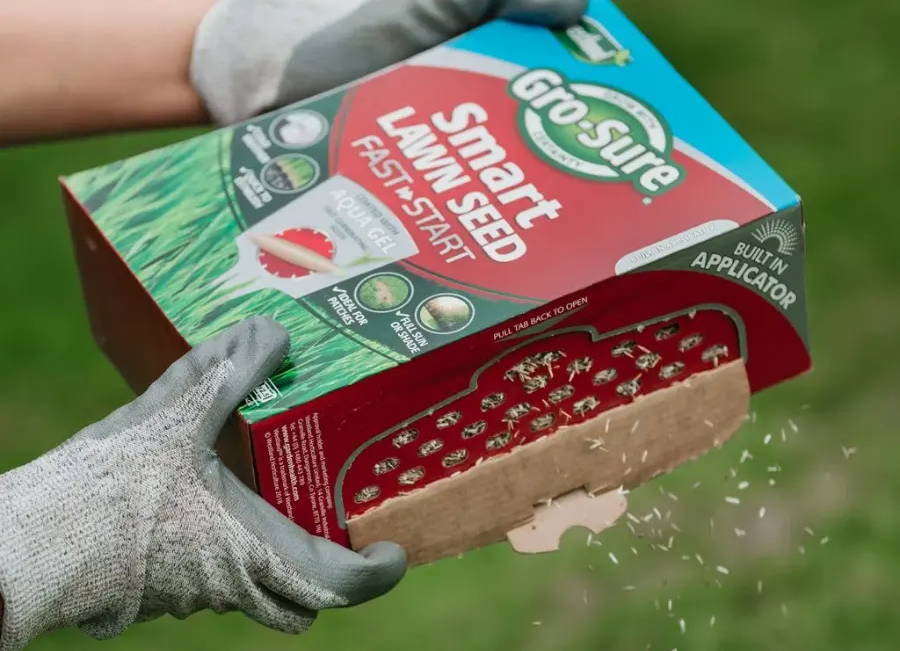 Once you have chosen the seed you require, we recommend you measure your lawn to ensure you purchase enough for your area. If you have an irregular shaped lawn, use the following guidelines. For a circular lawn, measure the diameter of the area at its widest point and for triangular lawns, measure from the middle of the base to the tip of the triangle.
We recommend you pick a day that's not too windy and preferably after a period of rainfall.
Before you start over seeding, mow your lawn short so that the seed can make contact with the soil.
Prepare the area by ensuring that all weeds and thatch are removed by raking in several directions.
If you haven't already, aerate the soil, which will help with drainage and air circulation. Simply spike it with a garden fork at regular intervals, about 15 cm apart.
Spread the mix evenly across your lawn, using a brush or broom to spread out and work the seed down into the soil. If the area to be sown is large, like a completely new lawn, divide it into sections using string.
You may wish to apply a top dressing, which can encourage the seed to germinate quicker and help retain moisture.
Water gently and regularly if the conditions are dry, although autumn rainfall should provide enough moisture.
Try to keep off the lawn while the new seed is establishing itself.
Once the blades reach the height of the existing lawn, it can then be mowed.